The Life & Legacy of Kate Goldstein
You're just going to have to be yourself. You're not very good at being anyone else.
-Kate Goldstein, 1986-2014
Kate Goldstein was a PhD student at the MIT Building Technology department and a NESEA Board and Lifetime Member. On June 22, 2014, the NESEA community learned that Kate had passed away in India at the age of 28. Kate was working with the Students' Educational and Cultural Movement of Ladakh (SECMOL) to install solar panels in the remote village of Phey.
Of Kate's many contributions to NESEA, her greatest legacy was her focused effort to bring more emerging professionals - especially women - into the community. She personally recruited 86 emerging professionals to BuildingEnergy Boston. She screened their resumes and sent them to exhibitors who were hiring. She found them couches to surf on. She did this all as a volunteer and a full time PhD student with a demanding job.
In honor of her work and outreach, NESEA established a scholarship fund in her name dedicated to supporting the participation of emerging professionals of all ages working towards sustainability in the built environment.
The Life & Legacy of Kate Goldstein: An Interview with Kate's Father, Dr. Jack Goldstein
Remembering Kate
You can read a letter from Kate's parents about her leadership and engagement with NESEA here.
Kate was a brilliant, inspiring, and caring individual. Her passionate leadership and commitment to NESEA, her work, and the world will be sorely missed. Below are some of the sentiments NESEA members have shared with us.
"After working with Kate on several BE Conferences and on the NESEA Board, I had no doubt in my mind that she was going to be someone who would become known and loved by an enormous body of people. I had assumed that, with her intense drive, her intellect, her focus, her heart, her moral compass and her desire to do good in the world, that she would certainly become a national or international force for movement into a world that would work better. I thought she was unstoppable. I really did.
The NESEA community and everyone that knew her shares a great loss, but what I am feeling right now is the loss for those who did not yet know her. The people closest to her certainly know how much she will be missed, but the rest of the world cannot possibly comprehend how great her potential was for being someone who was fearlessly on her way to creating positive change for this planet. May she inspire all of us to to find answers, to be kind and to keep doing the good work that was so important to her."
-Marc Sternick
One thing I truly admired about Kate was her powerhouse ability to motivate others and bring them together, as well as her incredible love and appreciation for NESEA. If anyone ever questioned the brilliance, innovation, creativity and lovability of the NESEA community, Kate's enthusiasm put that question to rest. I am thankful for the amazing spirit she brought to NESEA and to all her work- inspiring always!"
-Jess Lerner
Kate's passing is truly a tragedy. NESEA is an organization peopled with exceptional individuals, and in this group Kate stood out. She was unique and exceptional; from her was the promise of great things. It seems typical that she was helping others in India when this accident occurred. Kate Goldstein had the 'passion.'"
-Jim Vann
"Kate was someone who I looked up to. She was smart, out-spoken, interesting, & always contributed something useful and insightful to the discussion. She was also kind & encouraging to folks just getting involved. She was a rock-star. She will be greatly missed."
-Brian Legg
Many of us from the NESEA community who have paid tribute to Kate have celebrated her accomplishments, her intellect, her passion and her potential—her sheer firepower as a student, teacher and challenger of the status quo within our community. We speak of her potential as a great building scientist and practitioner who was destined to change the world.
My experience of Kate relates neither to her expertise nor her NESEA star power. Rather, it relates to her heart, which she wore freely upon her sleeve, to the dismay of some who prefer to keep their NESEA relationships 'at arms length!'
In NESEA, and only in NESEA, Kate found her professional family. A few years ago, as author of our year-end fundraising appeal, Kate wrote:
"There is only one place where I have found myself, and to be quite honest, I would have lost that self, had it not been for this place. I have needed this family to remind me that it is okay to be a cowboy. I have needed this family to reinforce what I once knew so firmly about myself. The Northeast Sustainable Energy Association is that place and that family. . . . NESEA sustains me. Above all, it has been a place of shelter and a place of mentorship. And I have watched so very many others my age, and those in all stages of their journey, find this solace and guidance here. . . . NESEA is the shelter of our community."
Kate often referred to me as her "NESEA mom." I was glad to serve periodically as her mentor and sounding board. Our nurturing relationship was, however, reciprocal. I remember being cared for by Kate on several occasions—when she gave up her bed for me as I crashed at her apartment to attend a conference in Boston during a period of austerity; when she prepared a lunchtime feast for us as several board members converged at her house to brainstorm how we could expand the "NESEA choir;" when she shared her loving puppy, Zeke, with us at our board meetings in Greenfield; when she told me with delight that she was tapping into her limited savings to become a Lifetime NESEA member; and when she proudly introduced me to her mom, who was in the front row of the "Women of Green" event at BuildingEnergy 11, on her 25th birthday.
Kate was a light. Her accomplishments were extraordinary for a person of any age. But what will always stand out for me is her extraordinarily big heart."
-Jennifer Marrapese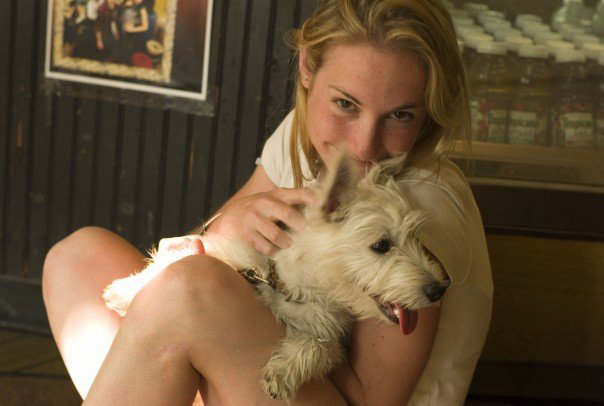 Give to the Kate Goldstein Fund
Our Mission
NESEA advances sustainability practices in the built environment by cultivating a cross-disciplinary community where practitioners are encouraged to share, collaborate and learn.